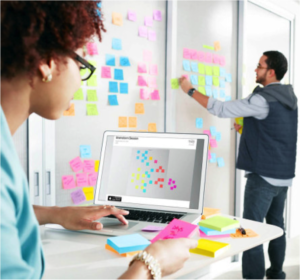 Why are we Different?
UXD Group brings together specialized user experience (UX), brand and digital marketing experts who are passionate about what customers really want and are trying to achieve.
We collaborate with best-in-class partners to deliver the most effective and cost-efficient digital solutions. On average this reduces re‑development time by 50%, which naturally translates into substantial savings. Couple this with lower costs for customer acquisition, lower support costs, increased retention and increased market share.
Our solutions enable you to:
Deliver an experience that customers find meaningful, compelling, and easy to use
Generate greater ROI by identifying and addressing customer demands
Improve customer retention and loyalty by building a better design experience
---
Marilyn Whittingham,  

Senior Digital Director/UX Consultant
With over 15 years of experience in customer experience design and digital marketing, Marilyn works with clients connecting the dots between business challenges and customer-centric solutions across a range of platforms. She works closely with clients to translate their strategic roadmaps into effective customer journeys that achieve key business results.
Marilyn has developed and delivered innovative digital and user experience solutions for global and Canadian organizations including American Express (the UK, US and Canada), Sun Life Financial (Globally), Canada Pension Plan Investment Board, Infrastructure Ontario, Slate Asset Management, GranitREIT, Toronto Community Housing (OCHE), City of Mississauga, Kids Help Phone, Rogers Communications Inc., In all cases, she has helped to transform their businesses by delivering engaging end user, brand, and digital solutions.
In addition, she uses a proven user experience (UX) methodology to manage teams of professional, product, research and testing specialists to deliver results-driven experiences on websites, intranets, mobile, apps and other digital channels.
Marilyn has run a consulting business called UXD Group (formally known as WhittiGroup) for 7 years.
    We apply a customer-centric design approach when conducting research, UX design, and testing across all digital platforms. We empower clients to improve their customer experience through evidence-based design and execution.

– Marilyn Whittingham
Marilyn's blog posts:
Why UX equals greater ROI:
https://www.linkedin.com/pulse/why-ux-design-equals-greater-roi-marilyn-whittingham/
I love user experience research.  Why you should too:
https://www.linkedin.com/pulse/i-love-user-experience-research-why-you-should-too-whittingham/
The Sweet Spots to Successful UX:
https://www.linkedin.com/pulse/sweet-spots-successful-ux-marilyn-whittingham/ 
* UXDGroup is formally known and acts WhittiGroup.